Il successo di una rivoluzione

10 anni di Memosens e di Liquiline
Hanno rivoluzionato il funzionamento e le modalità di manutenzione nel campo dell'analisi dei liquidi. Il lancio sul mercato della tecnologia Memosens nella primavera del 2004, seguito un anno più tardi dai trasmettitori Liquiline, ha visto l'inizio di una storia di successo che da allora si è imposta come standard di riferimento. Memosens e Liquiline offrono tecnologie all'avanguardia per un numero infinito di applicazioni in tutti i settori industriali.
Benefits
Non più valori di misura non corretti

Un vero plug-and-play

Tempi di inattività ridotti al minimo e durata del sensore prolungata nel tempo

Strategie di manutenzione ottimizzate
Come è iniziata la storia
La storia Memosens/Liquiline è iniziata nel 1999 con l'idea di rivoluzionare le tecnologie tradizionali di connessione e di trasmissione dei segnali nell'analisi dei liquidi. Dopo cinque anni di ricerca e sviluppo, sono stati introdotti i sensori con tecnologia Memosens, seguiti un anno dopo dai trasmettitori Liquiline, che ora possono sfruttare tutti i vantaggi di Memosens.
Come la tecnologia semplifica la vita
Memosens è sinonimo di digitalizzazione dei valori misurati direttamente nella testa del sensore e memorizzazione di tutti i dati direttamente nel sensore. Il collegamento del cavo è completamente sigillato ed il trasferimento bidirezionale dei dati tra il sensore e il trasmettitore è contactless e induttivo. Questo garantisce il funzionamento del sensore e assicura che fattori come l'umidità o la corrosione non causino a errori di misura.
I trasmettitori Liquiline offrono facilità d'uso senza precedenti. L'ampio display di testo in chiaro e il menu guidato supportano l'utente passo per passo attraverso la fase di configurazione, eliminando virtualmente qualsiasi errore operativo. La gamma Liquiline ora include trasmettitori per tutti i settori industriali, da dispositivi ad un canale per applicazioni semplici, a trasmettitori a due fili per ambienti asettici o pericolosi, fino a soluzioni multi-canale e multi-parametriche.
Come si diventa uno standard
Anche la più evoluta delle tecnologie non può diventare in uno standard, se rimane un fenomeno isolato. Oggi i principali operatori del mercato Endress+Hauser, Knick, Hamilton e SI Analytics stanno lavorando insieme per promuovere ulteriormente lo standard nel campo della strumentazione analitica.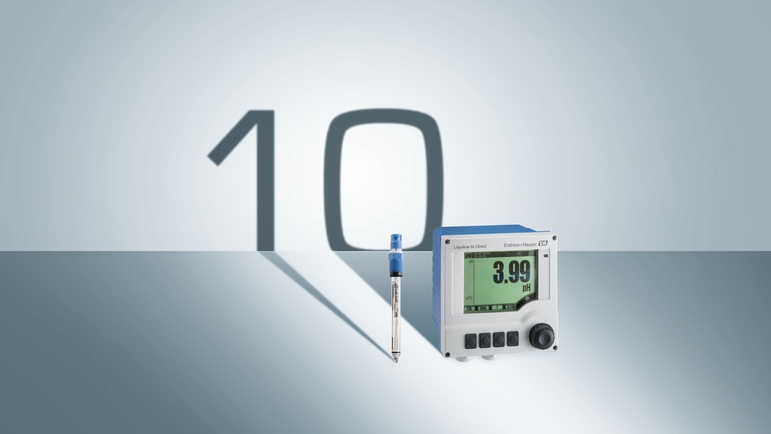 Related offering

Simple products

Easy to select, install and operate
Technical excellence
Simplicity
Standard products

Reliable, robust and low-maintenance
Technical excellence
Simplicity
High-end products

Highly functional and convenient
Technical excellence
Simplicity
Specialized products

Designed for demanding applications
Technical excellence
Simplicity
FLEX selections
Technical excellence
Simplicity

Fundamental selection

Meet your basic measurement needs

Technical excellence

Simplicity

Lean selection

Handle your core processes easily

Technical excellence

Simplicity

Extended selection

Optimize your processes with innovative technologies

Technical excellence

Simplicity

Xpert selection

Master your most challenging applications

Technical excellence

Simplicity
Success stories
Boiler water monitoring made easy

With the SWAS Compact Panel, the continuous monitoring of quality parameters such as pH and conductivity in cheese production can be automated and simplified.

The all-round carefree panel

Water Analysis Panels make continuous monitoring of drinking water easy at the water treatment plant in Frasnacht, Switzerland.

Advanced bioprocess control

From time consuming sample analysis to real-time monitoring of critical parameters in fermentation processes thanks to complete solutions from hardware to development and analytical services.